The basis of management is the experience and knowledge that the company needs for effective changes and company development. Finding a suitable manager is very expensive and you may not need it forever. How about having a manager just for a limited time (3-6 months), who has a network of specialised advisors.
A business owner thinks all the time about the next evolutionary step in their business. They look for changes that will lead the company to better results and are really needed. Practice is that it only counts good results or losses. But the main pitfall is how to make changes in the current business environment. Nowadays, it's not just about processes, finances, projects and so on.
It's about a wide range of interconnected knowledge and experience. You need professional knowledge in psychology, human resources, financial analysis, sociology, Public Relations, information security. After all, the company is a socio-technical system (see doc. Vladimír Horáček), where it's necessary to lead people correctly, their attitudes adopt new changes easily. When I talk about people, I don't just mean employees but also customers, suppliers and partners. How can we do it correctly and professionally?
One option is to hire a trainer and train the staff. But it has a problem that in one training is not enough for employees to understand everything and therefore they may not carry out the acquired knowledge correctly. They don't have the capacity to do so, because they're overwhelmed by operative issues. It's the one that needs to be removed during the changes.
Another option is to hire an advisor. However, they're not in the company every day and can't respond to everything. Of course, then they lose control over the implementation and constantly have to find out information they weren't told or whether the agreed conclusions were correctly implemented.
The third option is an interim manager. This is a person who is with you in the company for some time (for example, 3-6 months) and who manages the changes. One person can't know everything. Each variant has its pros and cons.
You're already thinking that the combination of all variants could be professional and correct. Yes, this is an advantage of our own journey network. Networks of practical consultants who work together to help clients achieve the best results.
REAL MANAGER - tandem with advisors and lecturers.
Imagine that you need to restructure a company or start a new project. You certainly need to make changes quickly (to optimise your finances, time, ...), retain the best people and get the first benefits from restructuring the changes.
This is how we do that: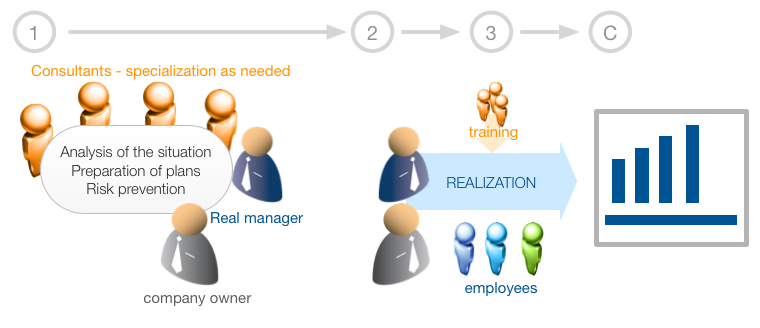 1. specialists meeting - advisors + REAL MANAGER + owner
At the beginning, when the company owner or management specifies what they need to achieve, a REAL MANAGER sits at one table with the selected advisors according to the needs. Together they will prepare a change plan, implementation process, risk prevention, or practical training. (Practical training - not training. Standard training is not enough today. People have to finish the training and know something practical.)
2. REAL MANAGER daily with you:
Unlike other advisors, a Real Manager starts, implements and carries out the agreed changes the following day. It's them who guarantee the professional application of the agreed plans in the agreed timeline. Unlike management, they have practical experience of similar restructuring from other companies. In many cases, restructuring is a new event for management. With Real Manager, they can easily avoid unnecessary mistakes.
3. Background of the network of experts for the REAL MANAGER
That's not all. In practice, things can differ from plans. Mostly in the first month. Again, the Real Manager must find the optimal direction. But they're not alone in that. They can draw on the knowledge of all consultants here. They can call an advisor at any time and consult the necessary changes. For example, they always call a specialist that they need for financial analysis, visual modelling of processes, solving social relations in the team, etc. So they work effectively with the given needs of the company. In addition, the advisors and lecturers involved carry out practical trainings for the employees at appropriate stages. They already know the situation and so they can prepare the most effective tailor-made practical training.
Conclusion
A Real manager creates tandem with the company owner. At the same time, they create a specialised tandem with the advisor that they need for the best solution. After the agreed time, they will deliver the agreed result and you'll be prepared for the company management in a new environment. A major change can be made in just 3 months, not in a year, as it the practice with most companies